This movie, based on a hit Broadway play, showcases Whitey's Lindy Hoppers dancing the most famous and most spectacular Lindy Hop scene ever preserved on film. The dancing was choreographed by Frankie Manning.

The scene starts when http://www.savoystyle.com/instruction.htmlmusicians Slim Galliard and Slam Stewart, in workmen's garb, discover some musical instruments while supposedly delivering a package backstage. They play a few tentative notes, and a spontaneous, swinging jam starts cooking . More backstage "workers" join the jam, including Rex Stuart on trumpet and C.C. Johnson on the ''Bongo drums''. The music builds in excitement until, as if out of nowhere, four Lindy Hopping couples, dressed in overalls and uniforms, swing out into the cameras at a frenetic tempo. Each couple executes amazing acrobatic shines. Then the group unites for precision ensemble work filmed at an angle that emphasizes legwork and speed.

The choreography and the dancing are as near to perfect Lindy Hop as you can see anywhere! The scene will take your breath away no matter how many times you see it. It is no wonder that this film was responsible for the simultaneous revival of Lindy Hop in Sweden and Britain in the 1980's.

There is also a short scene with Dean Collins and Martha Raye dancing Lindy Hop to the tune Watch The Birdie.

An interesting sidenote: Whitey's Lindy Hoppers' routine in Hellzapoppin' was originally danced and choreographed to different music, namely "Jumping at the Woodside". Universal Studios had a composer who was on staff write new music for the routine. Seen here is a reconstruction of the routine with the original music: Thanks to Dmitry Smolin.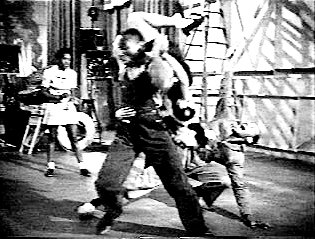 ( aka Whitey's Lindy Hoppers)

Lindy Hop
William Downes (uniform) and Frances "Mickey" Jones (maid).
Norma Miller and Billy Ricker (chef's hat).
Al Minns (white coat, black pants) and Willa Mae Ricker.
Ann Johnson (maid) and Frankie Manning (overalls).