SAVOYSTYLESHOP
Vintage Videos
Instructional Videos
BIOGRAPHIES
First Generation:
Shorty George
Leroy Stretch Jones
Twistmouth George
The Golden Age:
Whitey's Lindy Hprs.
Sandra Gibson
George Grenidge
Leon James
Ann Johnson
Dorothy Johnson
Norma Miller
Al Minns
Frankie Manning
Billy Ricker
Willa Mae Ricker
Russell Williams
Killer Diller
All-American News
1948
Director: Josh Binney
Producer: E. M. Glucksman
Story/Screenplay: Hal Seeger
Photographer: Lester Lang
Editor: L. Hesse
Music: Rene J. Hall.
73 mins., black & white, 35mm.
FGC 2380-83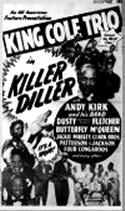 Thanks to Wayne Blair of Brisbane, Australia for the picture of this wonderful original film poster.
MOVIES
After Seben
Ask Uncle Sol
The Big Apple
Call Of The Jitterbug
Can't Top the LHop
Cootie Williams
Cottontail
Day At The Races
Chicago &
All That Jazz
Frankie Manning
Instructional Videos
Hellzapoppin'
Hot Chocolates
Jammin'the Blues
Jittering Jitterbugs
Killer Diller
Malcolm X
Manhattan
Merry-Go-Round


Queen of Swing


Radio City Revels
The Spirit Moves Stompin' at theSavoy
Swing Kids
Swingin'at the Savoy
Symphony in Black

History
African Roots
Reading


SAVOYSTYLES

HOP

P
Vintage Videos
Instructional Videos



The Congaroo Dancers do a Lindy Hop routine next to a prop palm tree. They dance extremely fast with excellent execution to the music of

Andy Kirk and His Clouds of Joy.

This dance scene from Killer Diller can be found on the DVD collection Jammin' with the Greats at SavoyStyle.

Killer Diller is a film recreation of an all-black musical variety show, with the story of a magician who does disappearing acts tying together the program. Includes performances by the Clark Brothers, the Nat "King" Cole Trio (with Oscar Moore and Johnny Miller), Dusty "Open the Door, Richard" Fletcher, Andy Kirk and his Band, the Congeroo Dancers, Jackie "Moms" Mabley, Butterfly McQueen, Beverly White and George Wiltshire. Numbers include "Ain't Misbehavin'," "Breezy and the Bass," "Don't
Sit on My Bed," "I Believe," "If I Didn't Care," "Now He Tells Me" and "Ooh Kick a Rooney."



Dancers:

The Congaroo Dancers
Lindy Hop
Frankie Manning
Ann Johnson
Willa Mae Ricker
Russell Williams